Downloads
The Easy Way to PROFINET Technology
PROFINET
Description: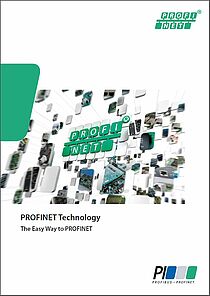 PROFINET is the open, multivendor Industrial Ethernet standard for factory and process automation.

Would you like to:
Take part in the success of PROFINET?
Equip your field devices with PROFINET interfaces?
Learn how easy it is to integrate PROFINET into your products?
Who can support your PROFINET development?

Please find all adequate information in this brochure.
Details:
German (version 2018) - Order No.: 4.271
English (version 2018) - Order No.: 4.272
Chinese (version 2014)
Japanese (version 2013)
Special edition:
PI North America (version 2019)
Files:
| # | Date | Filename | Type | Size |
| --- | --- | --- | --- | --- |
| | 29/01/2019 | PROFINET_Technologie_Der_einfache_Weg_dt_2018_.pdf | pdf | 4 MB |
| | 29/01/2019 | PROFINET_Technology_The_Easy_Way_engl_2018_.pdf | pdf | 4 MB |
| | 11/08/2014 | The_easy_way_to_PROFINET_Chinese_web.pdf | pdf | 2 MB |
| | 02/07/2013 | EasyWayPROFINET_japan_2013.pdf | pdf | 2 MB |
| | 02/08/2019 | EasyWayPROFINET_North_America_2019.pdf | pdf | 7 MB |