More Details

PROFIenergy relies on the collaboration of three automation elements: the controlling device (usually a PLC, but it could be a higher level supervisory system or even a dedicated energy management controller), the network itself (PROFINET), and one or more Energy Consuming Units, or ECUs (which could be a single device, a production cell or even a larger production unit).
The role of PROFINET is simple - it's to transmit standardized commands to each ECU under guidance from the controller, and to receive back status information and energy consumption data. It does this using the acyclic slots of the PROFINET communications protocol and does not interfere with existing automation processes even though they may be on the same PROFINET network.
What savings are possible? Why is this special?
During the idle period of a weekend for example, ECUs can consume up to 60 percent of the total energy used during production. With PROFIenergy, users can reduce this substantially by switching off unnecessary activity. So why has it not been done before?
It has, but never in an open and standardized way over the network. Additional hardware is normally required outside a machine, which means extra effort and cost. Switching relies on external relays and everything has to be hard-wired, so is proprietary.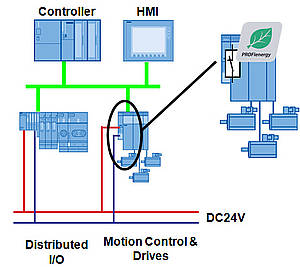 PROFIenergy, by contrast, requires no additional wiring or external hardware (see right) because energy management is handled smartly over the existing PROFINET cabling. PROFIenergy is embedded in the automation system, and is effectively 'on tap' for users to employ as they wish.
And, since PROFIenergy delivers a common solution that vendors and users can support together, everyone - vendors, OEMs and users - get the familiar benefits of 'openness'. 'Green' strategies also benefit.
NEXT