Downloads
PI Logos
PROFINET , PROFIBUS , PROFIBUS PA , PROFIsafe , PROFIdrive/Drives , PROFIenergy
Description:
Please find attached the PI Logos. Members of PROFIBUS & PROFINET International are entitled to use the logos in all their written or electronic publications and promotional material. The ZIP file also includes a corresponding short manual which defines some aspects to consider when using these Logos.

Format: The Logos are available in JPG and TIF file format. The pdf-file indicates the correct colours.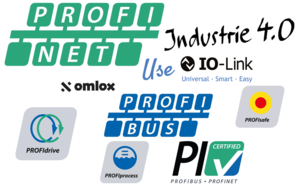 Please contact PI Support Center to receive other formats (e.g. vector data):

PROFIBUS Nutzerorganisation e.V. (PNO)
Member of PROFIBUS & PROFINET International (PI)
Haid-und-Neu-Straße 7
7613 Karlsruhe
Germany
Fon: +49 (0) 721 986 197 0
Fax: +49 (0) 721 986 197 11
info(at)profibus(dot)com

Please justify for which purposes the vector data will be used and why you require it.

After approval you will receive the slide master as well as a style guide with some tipps how to use the master.

Please note these current logo versions are of August, 2011. Only the PROFIdrive logo was added in April 2014, in October 2016 only the profile logos were harmonized and September 2020 we adapted the PROFINET and PROFBUS logos.
Files:
This area is for members only. Please
login
to access this download.
| # | Date | Filename | Type | Size |
| --- | --- | --- | --- | --- |
| | 07/02/2022 | PI_Logo_Collection_2022.zip | zip | 9 MB |
| | 07/02/2022 | TrademarkRules2022-02-04.pdf | pdf | 106 KB |