Downloads
Image Flyer: PROFIBUS & PROFINET International
PROFINET , PROFIBUS , PROFIBUS PA , PROFIsafe , PROFIdrive/Drives , PROFIenergy , IO-Link
Description:
Global · Future-Proof · Networking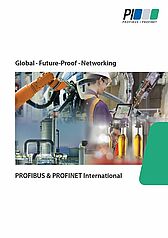 Our PI Image Flyer gives you an overview of what is behind PROFIBUS & PROFINET International (PI).Dive into the world of PI and learn about our technologies, Regional PI Associations (RPAs), Competence & Training Centers and Test Laboratories.
Be part of PI´s global network and influence the future of standards and technologies!
Whether manufacturer or user, membership at PI offers you a number of benefits. One of them: Shaping the Future with PI!
Details:
German (version 2018) - Order No.: 4.381
English (version 2018) - Order No.: 4.382
Korean (version 2008)
Japanese (version 2008)
Files:
| # | Date | Filename | Type | Size |
| --- | --- | --- | --- | --- |
| | 04/10/2023 | Flyer_PROFIBUS_PROFINET_International_engl_2018_20231004.pdf | pdf | 1 MB |
| | 04/10/2023 | Flyer_PROFIBUS_PROFINET_International_dt_2018_20231004.pdf | pdf | 1 MB |
| | 20/01/2010 | PI_Image-Brochure_2008_Korean.pdf | pdf | 3 MB |
| | 20/01/2010 | PI_image-Brochure_2008_Japanese.pdf | pdf | 2 MB |