Downloads
Marketing Flyer: PROFIdrive - Motion . Drives . Encoder
PROFIdrive/Drives
Description: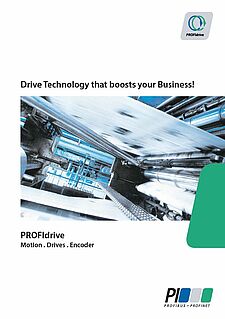 PROFINET, the 'Industrial Ethernet' communication system based on standard Ethernet, combines with the PROFIdrive drive profile, which has already been used successfully with PROFIBUS for decades, as well as other technologies such as device and application profiles, to form the basis for an extremely high-performance and future-proof drive technology.

PROFIdrive & Encoder have a comprehensive range of applications, scalable performance with cycle times as short as a few µs, and user-friendly, cost-effective implementation. This makes it the ideal solution for all drive tasks starting from application class 1 (AC1) (simple frequency converters) up to AC4 e.g. CNC/robotics.
PROFIdrive & Encoder is supported by working groups of PROFIBUS & PROFINET International (PI) the world's largest community of manufacturers and users of automation technology and is the PI drive profile, which has been standardized in IEC 61800-7 and used successfully for 20 years, that forms a uniform, vendor-neutral and interoperable application interface for drives & Encoders. With its six application classes, PROFIdrive provides seamless, scalable solutions for all drive technology applications.

For more details on Drives & Encoders with PROFIBUS and PROFINET just download the brochure enclosed!

Details:
German (version 2017) - Order No.: 4.011
English (version 2017) - Order No.: 4.012
Chinese (version 2011)
Spanish (version 2007)
Files:
| # | Date | Filename | Type | Size |
| --- | --- | --- | --- | --- |
| | 04/10/2023 | Flyer_PROFIdrive_Motion_Drives_Encoder_dt_2017_20231004.pdf | pdf | 791 KB |
| | 04/10/2023 | Flyer_PROFIdrive_Motion_Drives_Encoder_eng_2017_20231004.pdf | pdf | 777 KB |
| | 14/05/2009 | profidrive_brochure_esp_february07.pdf | pdf | 9 MB |
| | 18/01/2011 | PI_Flyer_Drives_Chinese.pdf | pdf | 707 KB |