Downloads
Marketing Flyer: PROFIBUS and PROFINET for Process Automation
PROFIBUS PA , PROFIBUS , PROFINET
Description: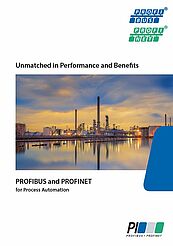 PROFIBUS and PROFINET are the leading standardized fieldbus communication technologies of PI for all areas of process automation. Both of them provide increased overall performance in plant operation and reduce overall operational costs. Existing technologies are integrated by supporting legacy devices. At the same time, the future is already "built-in" by full compatibility to TCP/IP, Internet and Web.

Easy plant operation is supported including fast and comfortable installation and exchange of field devices of different manufactures by the new PA-profile 4.0, which has been revised intensively and can be used now with PROFIBUS or PROFINET as well.

For more details just download the new brochure.

Files:
| # | Date | Filename | Type | Size |
| --- | --- | --- | --- | --- |
| | 04/10/2023 | Flyer_PB_und_PN_für_Prozessautomatisierung_dt_2022_20231004.pdf | pdf | 14 MB |
| | 04/10/2023 | Flyer_PB_and_PN_for_Process_Automation_en_2022_20231004.pdf | pdf | 14 MB |
| | 18/01/2011 | PI_Flyer_PROFIBUS-PA_Chinese.pdf | pdf | 811 KB |
| | 14/05/2009 | pa-brochure_spanish_apr2005.pdf | pdf | 8 MB |
| | 14/05/2009 | profibus_pa_brochure_port_2007.pdf | pdf | 17 MB |